In an anonymous manuscript, found by chance under the long-forgotten pile of books, in a magic library in Venice, the story of the young "Riza el venetien" is told .
He was madly in love with his town and with the life which overwhelmed the affairs of young men and women of that time, lost in the private and weary "calle" above the water of the timeless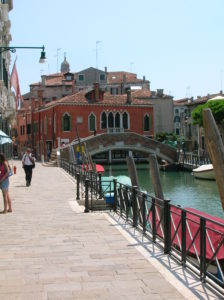 town.
In these pages smelling like dust and humidity ,one can read that Riza's residence was in the Sestiere of Santa Croce, and in the description of his house these rooms that welcome us seem to come back to life.
Riza and his journey companion Giacomo (maybe Casanova) loved wandering from "calle" to "calle" and arranging, in ca' Riza, gallant dinners and romantic liaisons.
It's told, and we love to believe it, that within these walls, our dear friend lived some moments of unfogettable charm, which Venice only is able to offer.
Let the beauty, the charm and the absolutely unique appeal of this town overwhelm you, and savour, live and breathe the atmosphere lived by Riza and timelessly preserved in this residence.
Welcome to
CA' RIZA